The battle between Windows and Apple is well known in the entire world, any technology geek knows exactly how these two major companies are always at a tiff with each other when it comes to their products. Each of them tends to provide best for their customers when it comes to the technology, with the use of triumphant technology and performance. They provide you with their Hardware maintenance services, warranty, and the world's best technology.
It can be hectic and a bit stressful to decide between Apple's MAC and Window's PC. The question which arises time to time is that which one of the two has better platform, latest technology, smart design etc. It also depends on the level of your comfort and style. For instance, if you are a Windows user it will be a of challenging to move to MAC as it can be confusing and hard to use for the first time.
There are few of the differences mentioned below which may help you decide between a MAC and a PC.
Hardware Design:
Hardware plays a huge impact while selecting your device. Apple's hardware in renowned all over the world due to their innovative designs and powerful, fast machines. With beautiful machines cater to work efficiently; apple surpasses the windows in terms of their appealing and fast machines.
On the other hand, Windows is trying too hard to come up with the hardware design and efficiency of apple by including functionality which was not present in the windows. Other advents include updated paint software, enhanced 3D modeling capabilities, touched-screen hardware, and several other capabilities
Displays
Displays play a huge impact on a user while buying a machine. Since, these machines costs a hundreds of buck, one should make sure their displays are big enough so that it can be more fun using it. They are a big deal for both MAC and PC users.
Apple discrete its iMacs according to their screen resolution: the 21.5 inch iMac with retina 4k display and 27-inch iMac with retina 5k display.
On the contrast, the surface studio which is manufactured by windows is solely available in 28-inch Pixel Sense display which is capable of 63 percent above 4k resolution. Surface studio comes with complete touch screen capabilities. It provides a total of 23-1/2 by 15-1/2 inches, which provides over 364 square inches of usable touch screen space. It has been liked by designers due to its huge multi capable display.
The studio touch-screen monitor has been a huge hit. The screen can bend backwards with zero gravity hinges. You can go from a normal desktop to a multi-touch drafting board in seconds.
Price:
One of the most important factors while buying a PC or Mac is the value for money. You can buy one of these if you have sufficient money available. While choosing between a PC or a Mac, it comes down to the product range and budget. Windows have a lot of devices starting from ($500) reaching up to different prices and models till Microsoft Surface Book which starts from ($2000). Which means, almost everyone can own a windows machine depending on their budget and liking.
Macs on the other hand start from $800 which is only for Mac mini. It does not include a mouse, keyboard or even display. It's not one of their most powerful machines and its specifications are a bit disappointing with slow performance.
The cheapest MacBook costs around $1200 which has a 11-inch display. It isn't a great value for money either due to its small screen.
Apple's Mac-Book Pro costs up to $2000 or more due to its retina model screen and it's a high end device internally and includes a new touch bar which comes at an extra price of $500.
Security
This is one of the biggest advantages of Mac users over PC users. There are more chances of getting a virus or a malware function when using a pc due to its lack of security provided by the windows. This is even because the number of computers which are made by Microsoft worldwide is a lot and it is easy to target them and hack them as compared to the Macs which are not available in such a huge number.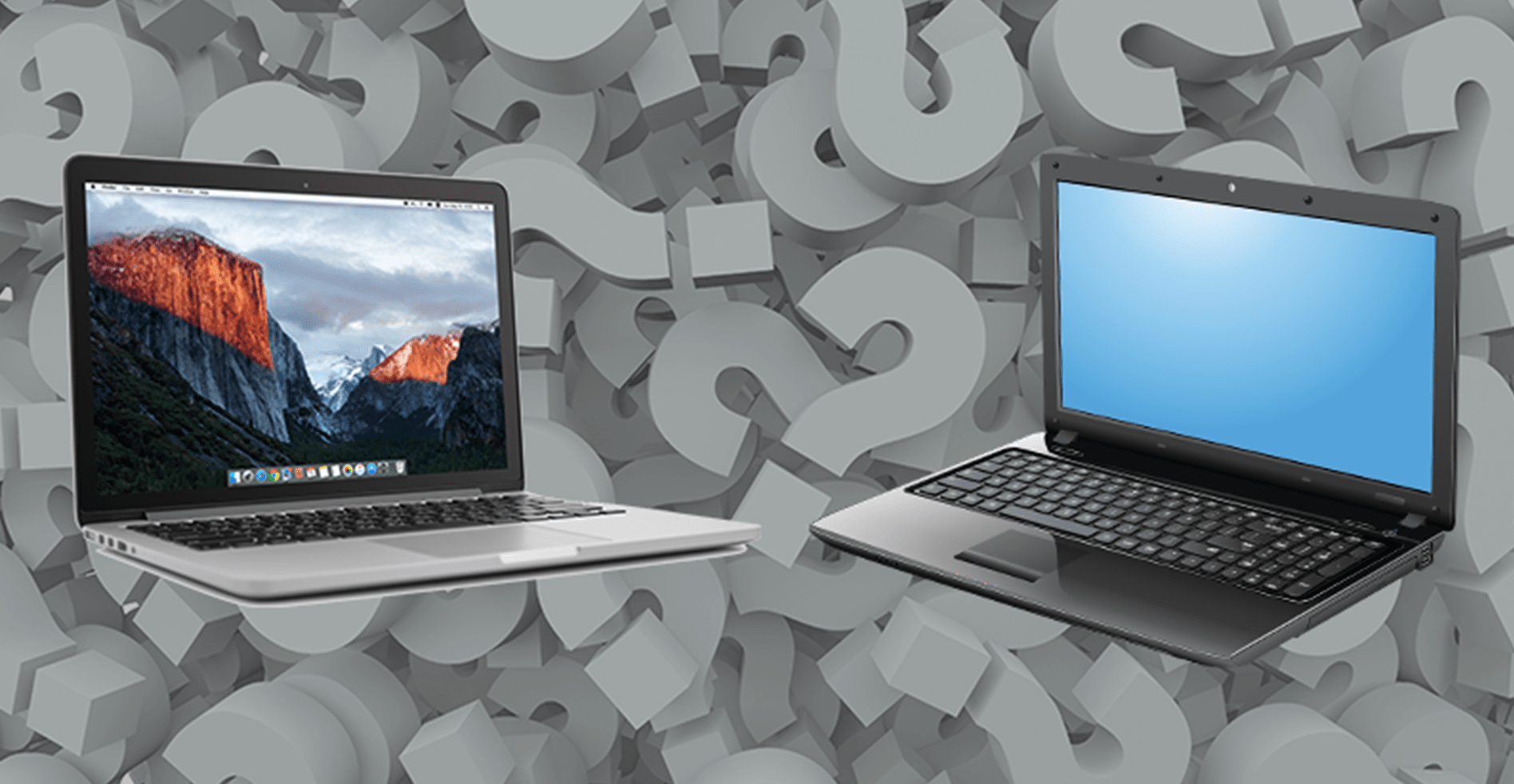 Which one to buy?
As stated above, the advantages and disadvantages of both the machines, there is no clear winner. There's so much more to a computer to offer and both the companies and paving their way into making their products a huge success.
Microsoft offers a vast variety of designs with variations in design and capability along with the affordable prices. While Apple continues to make its iMac one of the best emerging devices of the century with efficient speed a technology. Both the companies offer hardware maintenance services.
In the end, it all comes down to the money and how much you would want to spend on a device.